If a resort with breathtaking views and world-class terrain top your ski vacation "must haves," look no further than Alyeska. If you've never been skiing in Alaska, it's something that you must tick off your ski resort bucket list. Whether you've been hankering for years to go heli-skiing in the world-famous Chugach Mountains or just want to enjoy spectacular mountain vistas of the U.S.'s "Last Great Frontier," Alaska is an unforgettable place to visit as a skier and snowboarder. Known for its dramatic peaks and spiraling vertical, Alaska's Chugachs are unlike any mountains you've experienced.
Ski Alyeska
Alyeska is located just 40 miles south of the Anchorage airport (Ted Stevens Airport), providing skiers and snowboarders with convenient access once they've arrived in. Alyeska provides skiers and snowboarders with 73 trails spread out on more than 1,400 acres. The 60-passenger aerial tram, high-speed quad and seven other chairlifts, including two magic carpets ensure there's no waiting on lift lines—not that crowds are usually a problem in Alyeska.
Averaging 649 inches of powder annually, Alyeska offers some of the world's deepest snow conditions. That said, the temperatures aren't necessarily as cold as you might think. January is typically the coldest winter month, with averages around 20 degrees Fahrenheit, but by March averages are around 32 degrees. Because Alaska experiences more daylight during the winter months than the rest of the United States—due to its proximity to the North Pole—Alyeska offers night skiing on the weekends from 4 p.m. to 9 p.m.
The resort's trails are well divided to accommodate a variety of skiers and riders. About 11 percent of Alyeska is designated beginner, while 52 percent is marked as intermediate and 37 percent for experts. Terrain park enthusiasts have two parks to choose from, as well as a 400-foot-long Superpipe. Snowcat and heli-skiing tours are also available.
To learn more about this incredible, off-the-beaten path resort or book lodging, heli-trips or cat-skiing tours or make travel arrangements, call, or chat, with one of Ski.com's knowledgeable Mountain Vacation Specialists.
Alyeska Heli Skiing Operators
Chugach Powder Guides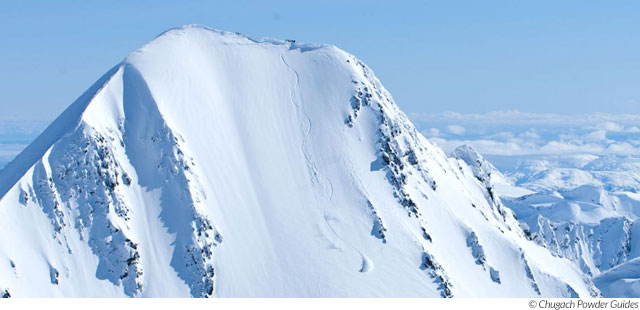 5-day (Mon.-Fri) packages
Accommodations at Hotel Alyeska
Best for the ultra adventurous